Despite the recent turmoil in the Czech real estate market, developers continue to build new buildings in different parts of the country. These include standard multi-storey houses with 1 to 4-bedroom apartments, as well as studio apartments (Na Hvězdárně Třebešín, Loox Prosek), as well as low-rise, barrier-free, large-format low-rise structures (Vilky Třebonice) and small family type mansions (Rezidence Waltrovka).
Each new building has its advantages: some are located in quiet, secluded places with magnificent nature and inspiring views from the window ("Byty Nad jezerem"). Others in the lively areas with good transport links and all the amenities at hand – shops, parks, kindergartens and educational institutions ("Harfa Design Residence") – are located far away from the metropolitan areas, but not inferior in terms of convenience to those in the heart of the bustle ("Tuchoměřické zahrady").
Thanks to this variety, every customer has the opportunity to choose exactly what he likes, depending on the needs and financial capabilities. Construction of new development projects will be completed in 2020-2021.
I would especially like to mention such projects as "Tulipa Trebesin", "Harfa Design Residence" and "Suomi Hloubětín".
Tulipa Třebešin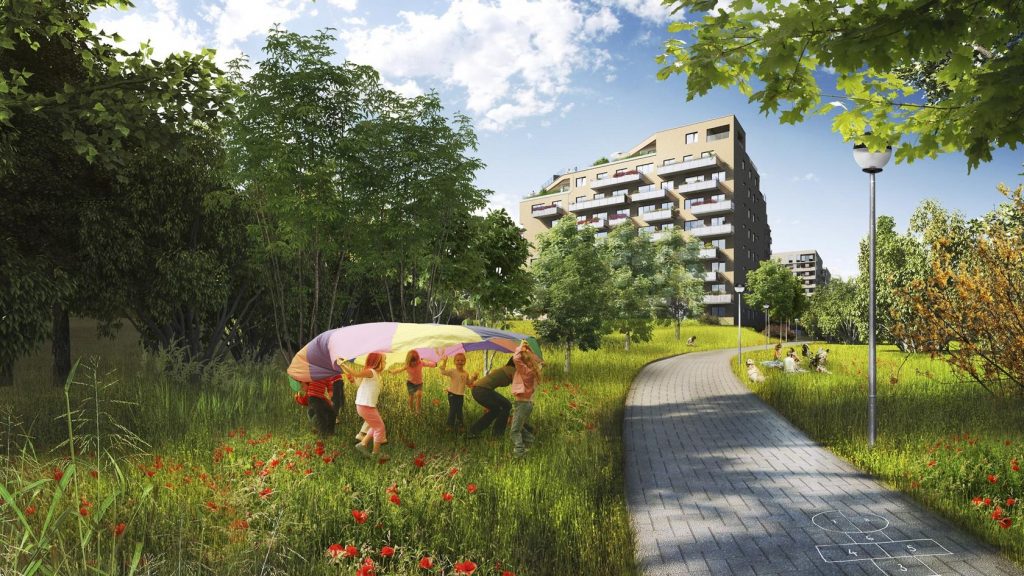 This development project, located in Prague 3, offers 155 apartments with different number of rooms (1-4) and improved layout, ranging from 37 to 216 m². Each apartment comes with a parking space and a small storage room in the basement of the house.
The residential complex, located near the parks of Maleszycki and Třeběžínský, is surrounded by greenery. The surroundings have everything you need for a comfortable life: shops, restaurants, school, gymnasium, medical center, good transport connection, kindergarten (also built within the project Tulipa Trebesin).
Each apartment has its own balcony or terrace protected by steel railing, safety glass and tiles resistant to low temperatures. Thanks to the loggia, overheating of the apartment in hot weather is excluded. Ground floor apartments have their own front gardens.
Construction of this complex will be completed at the turn of 2020-2021.
Harfa Design Residence


The design house, located in Prague 9, has 249 apartments with different number of rooms. The luxurious facade and interior is designed with a special design. The glass railing on the balconies and the facade made of metal give pathos its appearance.
Each apartment will have sliding aluminium windows with triple glazing, designer bathrooms, floor heating and the floor is made of wood. Economical heat distribution and ventilation system will provide good air exchange, heat saving and thermal comfort. A concierge will sit in the lobby of the building.
The house is located in a stone's throw from the shopping center Galerie Harfa, which has everything you need, from food and clothing to places for leisure. In the immediate vicinity there are green areas, transport interchange, educational, medical and sports facilities, as well as areas for active recreation.
There are also shopping centres Galerie Harfa and Fénix, Klíčovem and Podviní parks, educational institutions such as kindergarten, Na Balabence Elementary School, Gymnasium n.a. Klíčovem and Podviní, etc. Я. Seiferta, Metropolitan University. For art lovers – the Gong Theatre, the ANA Theatre, the Museum of Cinema Legends. Andelska Hospital and Vysochanska Health Centre are within a 10-minute walk.
Commissioning is planned for autumn 2020.
Suomi Hloubětín


Suomi Hloubětín is a young district in Prague 9 with houses built in Finnish style. The developer is YIT Česká republika.
The construction started in 2015. The complex will include residential buildings and a park equipped with everything necessary for active recreation. The construction takes place in 10 stages, named after Finnish cities: Espoo, Oulu, Turku, Lahti, Salo, MS, Porvoo, Pori, Captai Tampere.
This residential area will meet the highest standards. All buildings in the area have different floors. The number of apartments – 874. The number of rooms – from 1 to 5. The area of the apartments varies from 33 m² to 120 m². Apartments with glazed balconies on the middle floors, with front gardens on the ground floor and terraces on the top floors. Some of the houses will communicate with each other in the basement area, where parking, bicycle wash rooms, dogs and playrooms for children will be located.
The area will have everything necessary for a comfortable life and rest: restaurants, shops, kindergarten, educational and medical institutions, sports grounds, area for walking dogs, bicycle paths and even an amphitheater. According to the project, the new district will be surrounded by green areas. Suomi Hloubětín will become not just a residential area of the huge metropolis, but a real green oasis, a full-fledged small town.
Commissioning is planned for 2020, but the apartments are already available for sale.
Every development project currently under construction in Prague is interesting in its own way, but all of them meet the highest standards and are able to satisfy even the most demanding clients.
Did you like the article? Share it!
Articles that may interest you: