We all know that Prague is divided into 10 main districts (from Prague 1 to Prague 10).
But in fact, Prague has a larger number of administrative parts, in total there are 22. And the city parts all together add up to 57. We will analyze each district separately, in terms of the quality of housing. In this part we will look at Prague 5,6 and 7. You can learn about the first four districts in the previous part.
Prague 5
This administrative district of the city includes such parts as: Stodůlky, Jinonice, Třebonice, Řeporyje, Motol, Smíchov, Malá strana, Břevnov and Košíře. The area is about 27.49 km², which makes this district the largest after Prague 6. The area of ​​Prague 5 has the greatest potential for further building planning and development. A large number of new residential complexes and business centers are being built here every year, which entails a constantly growing flow of people wishing to live here. Average price per m² for rent is 317 CZK, and for purchase – about 104,000 CZK / m². In general, when choosing a district of Prague 5, you need to consider each part of it separately, because you can find both noisy, densely populated parts and calm, secluded ones.
If you are interested in a faster pace of life, then we advise you to take a closer look at the Smíchov area. This is the central part of Prague 5, where many old and new buildings are located. It should be noted that a large number of houses here have undergone a thorough reconstruction. In this part there is a large shopping center called Nový Smíchov, and you will appreciate good transport accessibility. Anděl metro station embodies the very heart of Smíchov. And at the end of 2020, construction began on Smichov City, the largest residential project in the Czech Republic at the moment, that is being built on a part of the territory of the former Smichov station, presumably all stages of which will be completed by 2032. The project should combine residential and office buildings, shops and a large park area.
If you are looking for a quiet place to stay, take a look at the more distant parts of Prague 5, such as Stodůlky, Jinonice and Košíře. They have a well-developed infrastructure, and at the same time, they are not as densely built up as Smichov. These parts are dominated by new buildings and panel houses.
The whole of Prague 5 is rich in spacious parks and recreation areas, such as: Prokopské údolí, Přírodní park Košíře-Motol, Santoška, ​​Mrázovka, Husovy sady, Park Sacré Coeur, Kinského zahrada, Park Ladronka. In general, it is not worth considering transport accessibility separately, because it is quite well developed throughout Prague.
Prague 6
This administrative district of the city includes such parts as: Dejvice, Liboc, Ruzyně, Střešovice, Veleslavín a Vokovice, Břevnov, Bubeneč, Sedlec and Hradčany. The area is about 41.54 m².
Prague 6 is the largest district with two particularly large-scale parts: the airport zone and the immense Šárka – Lysolaje Nature Park. The densely populated parts are Dejvice and Hradčany. The whole area of the city is connected by two main streets Štřešovická and Evropská, which start from Dejvice and end with the airport.
The rental price of housing in this area per m² is CZK 290 for rent, and for purchase – CZK 101,090 per m².
There you will also find a scholarly area with campuses of such universities as: ČVUT, VŠCHT and ČZU.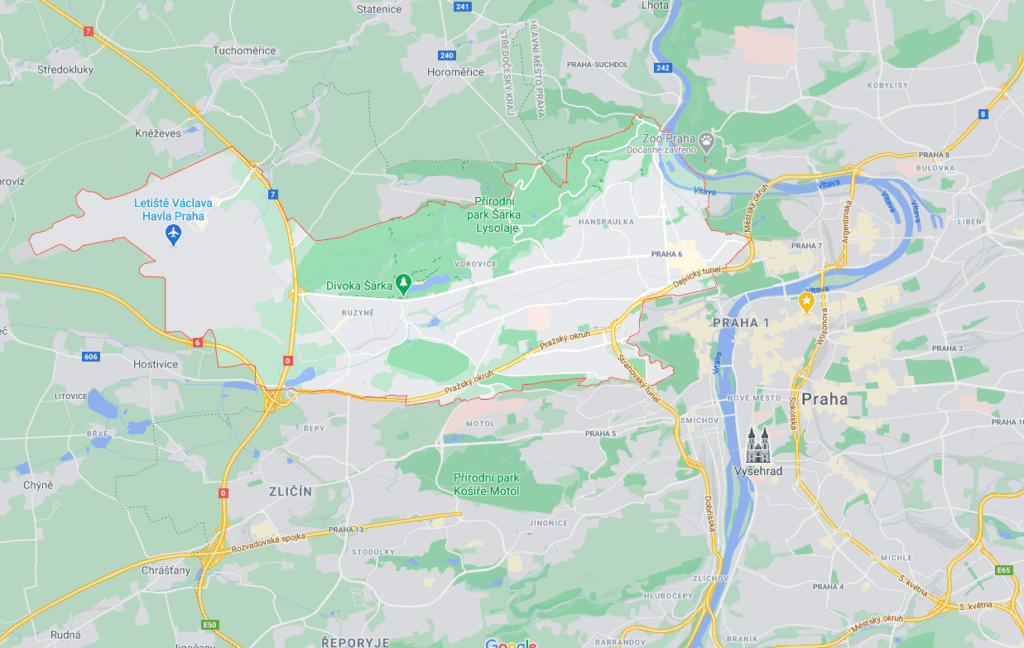 You will certainly be delighted with the abundance of interesting housing, as in Prague 5. It is an ideal area for students and young families due to the large number of green areas. There is also a very calm rhythm of life here and, just like in the area of Prague 5 Smichov, there is a combination of old and new buildings, and many luxury residential complexes.
In the area called Bubeneč, in addition to the campus, there is a large number of embassies of different countries, and even a "diplomatic district" in the heart of their grouping. The area is also beautiful for its historic architecture. As in other parts of Prague, the old buildings here are monitored for any changes, so many historical buildings are well preserved to this day.
Prague 7
Prague 7 covers an area of ​​approximately 7.14 km². It includes such parts as: Holešovice-Bubny, Bubeneč and Troja. This district is separated from Prague 1 by the Havličkův bridge, and one of its parts is the Štvanice island.
Price per m² for rent is 310 CZK, and for purchase – 109,543 CZK per m². There are a lot of office buildings in this part, and a large number of foreigners and visiting company workers live here.
You will hardly find panel houses in Prague 7, but only brick buildings, old "činžovní" houses and newer buildings, of which there are already quite a few, so the choice of housing is wide. This is one of the most prestigious areas, due to its proximity to the center, a developed transport network (many tram and bus routes, 2 metro stations, a train station for out of city/country trips).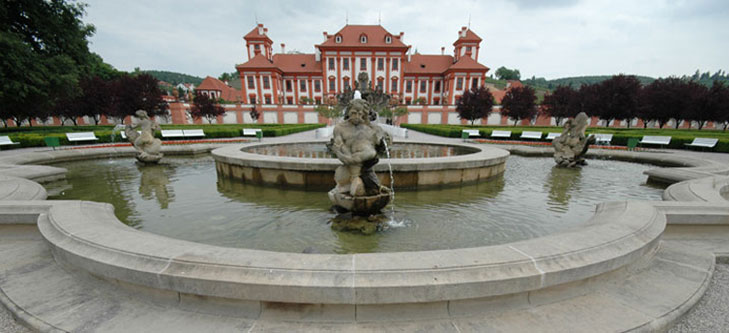 Here you will also find many colorful restaurants, cafes, clubs and other establishments, even bitcoin cafes. Two popular and beautiful parks Stromovka and Letenská pláň fell on such a small part of Prague. In Stromovka, the Matějská pouť amusement park opens annually, there are picturesque embankments and green areas. And in the Letenská plan park you will find the famous metronome, where the Stalin monument used to stand, and of course the zoo.
In addition, Prague 7 hosts the Vystaviště Holešovice exhibition center, where a wide variety of exhibitions and events, such as ice hockey, take place throughout the year. In general, life in Prague 7 is dynamic. And if you are attracted by the fast pace of life, then you should take a closer look at this particular district.
Did you like the article? Share it!
Articles that may interest you: